ShowerGuard® |Clear Glass | Diamon-Fusion| EnduroShield®
When you're looking for a clean and modern design for a shower enclosure, frameless shower doors are the way to go. They'll give you a greater sense of openness and space, enhancing smaller bathrooms and adding luxury to larger ones. But with a frameless shower door, you'll need to think about how you'll keep all that glass clean, particularly if you have hard water.
At Glass Castle, we offer a number of different options to help keep your frameless glass shower doors sparkling like new.
The Products You Need to Maintain and Clean Your Frameless Shower Doors
ShowerGuard®–ShowerGuard®'s patented technology works equally well with soft or hard water, protecting your frameless glass shower door from mineral deposits, scaling and soap scum. With soft water, you can use an over-the-counter glass cleaner on an as needed basis. If your water is hard, a vinegar-based solution every 15 showers will keep your shower doors crystal clear. If your water has a high silica content (you have water spots that remain after a vinegar bath), you can use a mild abrasive cleaner. Stay away, however, from highly abrasive cleaners, brushes and products containing phosphoric or hydrofluoric acid, as they can damage the ShowerGuard®
Clear Glass— With clear glass you can wash it using a soft, clean, grit-free cloth and a mild soap, detergent or slightly acidic cleaning solution (such as Ammonia-Free Windex or Arm & Hammer Clean Shower). After cleaning glass should be immediately rinsed with clean water, and the excess water should be removed with a clean squeegee or lint-free cloth. Avoid using abrasive cleaners or metal squeegee holders as they may lead to fine scratches or marks in the glass.
Diamon-Fusion—This product employs nanotechnology to create a surface where dirt, water and other substances can't stick by filling the natural pores that exist in glass with a silicone film. The coating doesn't change the look of your frameless shower door, but makes it as easy to clean as a non-stick cooking surface. It offers an effective barrier to oil and water, helping prevent staining and corrosion. Unlike other types of protective products, Diamon-Fusion cures immediately. Once applied, the glass is ready for use. No special products are required for cleaning—clean water and a microfiber towel are usually sufficient.
EnduroShield®–EnduroShield® bonds with the glass, creating an invisible barrier that keeps dirt, soap scum and other grime from adhering to the glass. It prevents water and oil from making contact with the glass, leaving a surface the requires little effort to clean. Because it's invisible, it won't change the appearance of your frameless shower doors. To clean the EnduroShield® surface, use a damp microfiber cloth and any mild detergent, such as hand or dish soap. A weekly cleaning is usually sufficient. If your water has a higher mineral content, a vinegar and water solution sprayed on the surface will usually dissolve any deposits. For tougher water stains, simply increase the strength of the vinegar in the solution. Avoid any cleansers with grit or abrasives, as they can damage the EnduroShield coating.
At Glass Castle, we bring more than 75 years of collective experience in the custom glass business to homeowners and businesses throughout Northern and Central New Jersey. Over the last 30 years, we have installed in excess of 25,000 glass shower doors, including frameless, semi-frameless and framed units. We provide a wide array of custom glass solutions for your home or workspace, from mirrors and tabletops to glass furniture. Our specialists can also repair, replace or tint any type of glass.
Glass Castle—Your Commercial and Residential Glass Specialists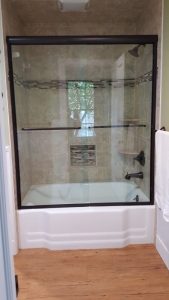 Stop by our showrooms in Neshanic or Lawrenceville to see all we have to offer. Our showrooms are open Monday through Friday, from 8 am until 5:30 pm and Saturdays from 8 am until 1 pm. For more information about the range of products and services we offer, or to learn how we can help you, contact us by e-mail or call us at 908-782-0812 in Neshanic Station or 609-530-1115 in Lawrenceville.
We provide a free estimate to every potential customer. In addition, we'll meet or beat any quote from a competitor.
Disclaimer: To ensure your safety, please try the above products on a small area of your frameless shower door before applying them to the entire piece of glass.