Let Glass Castle Help You Protect and Show Off Your Wine Collection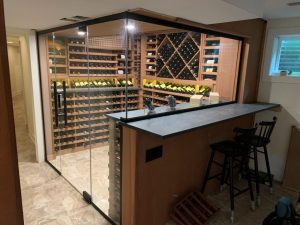 If you're a serious wine collector, you'll want a carefully constructed cellar to protect your investment. With an all-glass front wine cellar from Glass Castle®, you can ensure that your collection is climate-controlled and safely stored in a way that enhances the beauty and elegance of your home. To learn more or to ask any questions about all-glass front wine cellars, contact us online or call one of our showrooms, in Neshanic Station at 908-782-0812 or in Lawrenceville at 609-530-1115. Our showrooms are open Monday through Friday, from 8 am until 5:30 pm and Saturdays from 8 am until 1 pm. Stop by and see all we have to offer.
Who Is Glass Castle?
Glass Castle is one of the oldest and most respected glass companies in Northern and Central New Jersey, and in Central Bucks County in Pennsylvania, providing a wide range of glass solutions to businesses and homeowners for more than three decades. We offer more than 75 years of combined experience in the custom glass business, with an extensive inventory of glass products, including frameless, semi-frameless and framed glass shower doors. Over the last 30 years, we have installed more than 25,000 glass shower doors.
We help design and install custom glass storefronts, as well as a wide array of custom glass solutions for your home, from tabletops and mirrors to glass furniture. We will repair or replace any type of glass.
What Can I Expect from an All-Glass Front Wine Cellar from Glass Castle?
At Glass Castle, we pay attention to every detail when building your custom, climate-controlled, all-glass front wine cellar:
Our trained and experienced technicians will come to your home and carefully assess the potential locations for the construction of a wine cellar
We have the skill and experience to construct and install a custom glass-front wine cellar to fit any opening
Your wine cellar will come with stainless steel hardware and custom handles
We will install self-closing doors and touchpad locking systems for easy and foolproof access and protection
Low iron crystal clear glass is available, offering maximum brightness and clarity with greater transmission of light than other types of clear glass
Why Should I Purchase an All-Glass Front Wine Cellar from Glass Castle?
At Glass Castle, we built our business through a commitment to provide world-class customer service and attention to everyone who comes into our showrooms. When you come to us with questions or concerns about any glass need, we'll take the time to listen carefully, so that we can work with you to find a unique solution. We use only the highest quality materials in all wine cellars and other custom glass solutions, and will work hard to ensure that your all-glass front wine cellar is finished in a timely manner and within your specific budget. We'll provide an estimate with no cost or obligation on your part, and we'll match any price quoted by a competitor. Our customers also appreciate the technical expertise we bring to every project we handle.
Glass Castle—Your Commercial and Residential Glass Specialists
Stop by our showrooms in Neshanic or Lawrenceville for more information about installing a custom, climate-controlled all-glass front wine cellar in your home. Our showrooms are open Monday through Friday, from 8 am until 5:30 pm and Saturdays from 8 am until 1 pm. For more information about the range of products and services we offer, or to learn how we can help you, contact us by e-mail or call us at 908-782-0812 in Neshanic Station or 609-530-1115 in Lawrenceville.