Call 908-782-0321 for our Commercial Services today!
Serving Commercial Clients in Central New Jersey for over the last 3 decades
Glass Castle's commercial division has been servicing corporate and commercial customers since 1990. Our commercial glass work includes, new construction, build outs, replacements and repairs. And we are dedicated to providing our corporate clients with great service at reasonable prices.
Is Your Storefront Projecting the Image You Want?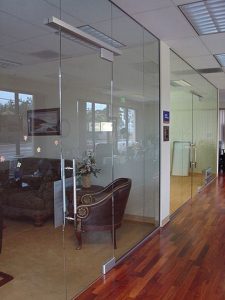 Your storefront is the face of your business and the image you're showing the world. Does it say, welcome? Doors and windows in disrepair, or improperly functioning hardware won't instill confidence in your customers or potential customers. Let Glass Castle help you put your best face forward.
Whether your commercial property has broken doors, or windows, hardware problems or has just deteriorated over time, you can depend on us to fix the problem. We can repair your existing storefront or install a new system—in either case you'll get a high-quality product and service at a fair price, and delivered on-time.
We specialize in commercial service repairs, new commercial storefronts and windows, and custom commercial glass for retail, hospitality, and corporate customers. Our commercial glass installations and services include:
Storefronts
Curtain wall
Aluminum doors

Standard
Custom size and colors
ADA approved
FRP doors
LEED Certified

Aluminum windows

Sliding
Project in-out
Double hung

Insulated glass replacement

Safety glass
Low-e
Custom tints

Fire rated glass
Receptionist sliders
Mirrors
Showers
Railing systems
With you every step of the way
The commercial glass specialists at Glass Castle can assist you with your project at every step of the process—from design and fabrication through installation and maintenance. We offer a wide selection of high-quality, durable and energy efficient glass products designed to keep your commercial property looking its best. You can trust us to recommend the best glass options and design for your particular space without having to sweat the details.
Talk to a NJ Commercial Glass Work Specialist Today
Since 1990, Glass Castle has provided commercial glass services, such as storefronts, to Central New Jersey customers. Our over the last 3 decades of experience means we can provide you with the knowledge and expertise your business deserves. We would be happy to help you with any commercial project you're considering. Call us today to discuss your commercial project with one of our specialists today. We are here to offer you a wide variety of solutions to enhance your commercial storefront or business.