Residential Services
WHO TO CALL FOR FRAMELESS SHOWER DOORS IN CENTRAL NEW JERSEY
As a homeowner, it's great when you can find a contractor to do the common jobs. But things get complicated when you're looking for a specific and unique service—you don't want to end up with someone guessing how they should complete the project. Glass work is one job that requires specialized training.
Here at Glass Castle, we provide customers with expert services in all kinds of glasswork. One of the services we are commonly contacted for in Central New Jersey including the Princeton Area is frameless shower door installation. Few contractors offer this unique service, but we are here to provide you with your ideal frameless shower.
COMPREHENSIVE GLASS WORKS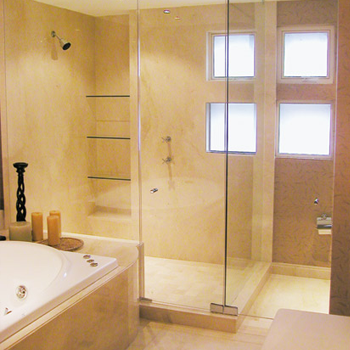 Glass Castle focuses on glass projects for homeowners. These projects could include a remodel, repair, or original installation. We offer the following products:
Shower doors

Framed
Semi-frameless
Frameless

Mirrors for the entire home
Glass tabletops and furniture

Dining
Night stands
Coffee tables

Thermopane replacements
Storm inserts
Screens
Kitchen cabinets
Window tinting
So, whether you're trying to weather-proof your home, update your windows, or you're looking for a frameless shower, we can help with all your glasswork needs.
ACCESSIBLE EXPERIENCE
Since 1990, we've offered specialized services such as frameless shower doors to Central New Jersey. Our experience allows us to provide our customers with the knowledge and expertise they deserve.
In addition to our experience, we offer accessible locations for residents in Lawrenceville and Neshanic Station. These locations help us respond to your call more quickly and complete the job more efficiently.
For residential projects that will enhance your home, let us help you. We can provide the specific services you seek. Call us for a free estimate at (908) 782-0812 or (609) 530-1115 today.