The Go-To Place for Businesses and Homeowners for 30 Years
Your bathroom needs a makeover…badly. It feels like a dungeon every time you enter, and it's nearly impossible to keep the shower free from dirt, mold or mildew. There's a great solution that will not only make your life easier, but will brighten your day…literally. It's a glass shower enclosure. You'll think you've doubled the size of your bathroom.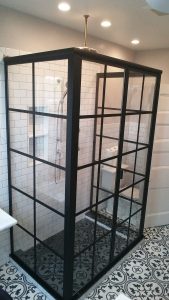 Maybe you've owned or operated a business with a storefront for years or decades. It's to the point where a fresh paint job simply won't help you catch the eyes of a potential customer. There are custom glass solutions for that as well.
Whether you're a homeowner looking to upgrade a bathroom or create a custom piece of glass furniture, or a business owner in need of a new and attractive storefront, Glass Castle can help.
Custom Glass Providers in New Hope for Three Decades
At Glass Castle, with showrooms in Neshanic Station and Lawrenceville, we provide a full range of custom glass services to homeowners and business owners in New Hope, Pennsylvania and the surrounding areas, including North and Central New Jersey. For more than 30 years, we have designed, built and installed a wide range of custom glass products, from glass shower doors and enclosures to storefronts to glass tables and other furniture. Over the years, we've put more than 75,000 glass shower doors and enclosures in homes across New Jersey and Pennsylvania. We thrive on creativity, always looking to design a unique shower enclosure, storefront or piece of furniture that lets you make a personal statement.
To inquire about any of our custom glass services, contact us by e-mail or call our showrooms in either Neshanic Station (908-782-0812) or in Lawrenceville (609-530-1115).
One-of-a-Kind Glass Creations for Your Home
If you're looking for maximum impact in a bathroom remodel, look to custom glass. In most instances, But the benefits of glass are more than aesthetic. Glass is a much easier surface to clean and keep clean. You'll spend less time with upkeep and you'll like the appearance more.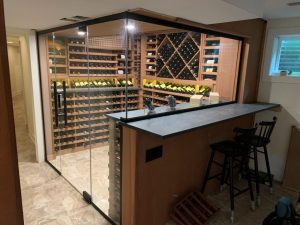 We always recommend that you develop a design that's unique, one you view with pride and a sense of personal ownership. Because we understand, though, that you may not have the resources for a custom solution, we carry a large and diverse inventory of prefabricated glass shower doors. We maintain a large inventory of 3/8" and 1/2" prefabricated glass shower doors, so that we can start and complete your project within days of obtaining design or project approval. We are confident that you can find one that fits with your personal tastes and existing décor.
If you're like most of our customers, though, you'll want to create a one-of-a-kind look, something that is both pleasing to your eye and catches the attention of visitors in your home. Our proven design professionals can help you do that. When you opt for a custom glass solution, our design team visit your home to learn your personal sense of style, to see what your space looks like, and to help us know what needs to be done to make your dream a reality.
We take a thorough approach when installing any shower enclosure. We'll carefully measure your space and locate all load-bearing walls, so that we can identify the best orientation and location for your custom glass shower door. We'll confirm that:
You have enough structural support to carry the weight of your glass shower enclosure
You have adequate ventilation and air flow in the bathroom, so that you won't have to worry about issues related to moisture, mold or mildew. We can also identify modifications that will help avoid potential problems.
We will also confirm the placement of your shower heads, helping you minimize the risk of water on the floor or in the surrounding areas.
We offer a free quote on the cost of any type of custom glass project. To learn more, call us at one of our stores or contact Glass Castle online.
How a Custom Glass Storefront Can Help Your New Hope, PA Business
There are many distinct benefits to having a glass storefront: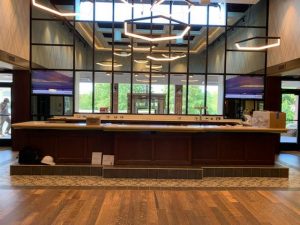 Glass naturally draws the attention of people passing by—It appeals to our natural sense of curiosity and intrigue, allowing us to see more of the world. When a pedestrian can see what's on the other side of the glass, there's often a desire to to open the door and get a closer look.
Glass lets you be more creative and flexible in your marketing and window displays—A glass storefront lets your display take on three dimensions, visually far more appealing than a two-dimensional sign or advertisement. Because it's also a lot easier to change out your displays, the view for passersby becomes dynamic. You can tailor your window display to coincide with seasonal offerings or highlight sales.
Glass storefronts have been show to be more energy efficient, reducing the costs of heating and cooling your business
Studies also show that glass storefronts have a higher fair market value than businesses with traditional storefronts, so that you can get a greater return on your investment
At Glass Castle, we work closely with new and existing businesses, helping you design custom glass storefronts that make you stand out from the competition. We also use only the highest-quality materials that allow us to stay within your budget.
Glass Castle—Meeting All Your Custom Glass Needs in New Hope, PA
At Glass Castle, we provide all new customers with a free estimate. We also offer a price match guarantee—we'll meet or beat any quote you receive from another glass installation, design or repair company. We are available to meet with you weekdays from 8 am until 5:30 pm and Saturdays from 8 am until 1 pm.
To learn more about the wide range of luxury and custom glass products and services we offer, from shower doors and mirrors to windows, storefronts and door glass, or to ask any questions about glass repair or replacement services, contact us online, come to of our showrooms, or call us at 908-782-0812 in Neshanic Station or at 609-530-1115 in Lawrenceville.