You're opening a new business or building a home and you want a special look. You're remodeling your bathroom and want to make a personal statement. Think glass—it's long offered a unique perspective, providing protection, ease of care and aesthetic appeal. Why not create your own unique design and look with a custom glass storefront, shower, mirror, furniture piece or other fixture from Glass Castle.
At Glass Castle, we have been the go-to custom glass designers and installers in Central and Northern New Jersey and Eastern Pennsylvania for more than 30 years. Our dedicated staff offers more than 75 years of combined experience in custom glass design, fabrication and installation to homeowners and businesses in Bound Brook and throughout the region. We'll work closely with you to take your unique vision and turn it into a reality, whether it's a frameless shower enclosure, a personalized mirror or glass table, or a window into your business. Our talented and experienced designers will listen carefully and work cooperatively with you to create a finished product that meets or exceeds your expectations.
Since our inception more than three decades ago, we have installed more than 75,000 custom and prefabricated glass shower doors for homeowners in Pennsylvania and New Jersey. We also handle all types of custom glass repair and replacement, including custom glass tinting. We also offer products that will help protect your glass creations.
For help with any custom glass need, contact by e-mail or call us at our stores in Neshanic Station (908-782-0812) or in Lawrenceville (609-530-1115).
Full-Service Custom Glass Shower Door Design and Installation—Bound Brook, New Jersey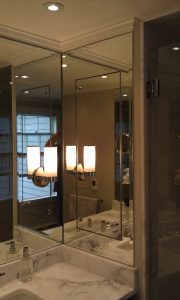 Is your bathroom looking a little tired? Do you feel claustrophobic when taking a shower? Why not replace that old solid enclosure with a glass one? Glass is far easier to keep clean, and offers warmth and elegance with a greater feeling of openness and space. At Glass Castle, we can help turn that dank and dark bathroom into an airy and light one. We have a large inventory of prefabricated glass doors to fit just about any style, but we specialize in building and installing one-of-a-kind glass enclosures that complement your space and help you make a personal statement.
When you hire us to design and install a glass shower door, we'll visit your home, so that we can learn more about your personal sense of style, as well as the space where we'll be working. We'll carefully measure everything and locate all necessary structural support to ensure that it will bear the load.
Before installation, we'll:
Determine where your load-bearing walls are located, as well as studs and trusses, so that we can identify the optimal placement and orientation for your glass shower door

Confirm that you have the required structural support for a glass shower door

Determine the potential trajectory of your shower heads so that they don't spray water on the floor or the surrounding areas

Confirm that you have sufficient ventilation to prevent accumulated moisture, mold or mildew, and identify ways to improve airflow, if necessary
Glass Castle Makes Creating Custom Glass Simple and Affordable
With a custom glass creation from Glass Castle, your options are virtually unlimited—if you can dream it, we can probably do it. Once we've agreed on a design, we'll start your project in a timely manner. Because we have a number of custom glass technicians on staff, and typically carry an extensive inventory of 3/8" and 1/2" glass shower doors in our warehouse, we can usually begin your project within a few days or a couple weeks.
For a free quote on the cost of any type of custom glass project, call us at one of our stores or contact Glass Castle online.
A Custom Glass Storefront—Help Your Business Stand Out in Bound Brook
The benefits of a glass storefront are many:
It naturally draws people in—We all like to keep our eyes open for interesting things when we walk down the street. A glass storefront will typically peak that interest, allowing us to see not only the displays in your window, but the activity in your store. That's often an incentive to come in and learn more.

Glass makes it easier to promote your brand and your products—A glass storefront lets you highlight your products in creative and attractive displays, drawing the attention of passersby.

Glass makes it easier to market your products—You can highlight sales items in your windows, introduce new products, and provide more product information

Glass is generally more energy efficient, reducing the costs of heating and cooling your business

Statistics show that commercial property with glass storefronts typically carries a higher value—When it comes time to sell your business and retire, you'll often get more for a business with a glass storefront
At Glass Castle, we work with new and existing business owners, creating glass storefronts as part of new construction or remodeling. We'll work closely with you to ensure that we stay within your budget while providing with the highest levels of service and the best materials.
Come to Glass Castle in Bound Brook, New Jersey
To learn more about the range of custom glass services available at Glass Castle, visit our showrooms in Bound Brook or Neshanic. We will provide an estimate of the costs of your project at no cost to you. We also offer a price match guarantee—we'll meet or beat any price from another glass installation, design and repair company. We are open weekdays from 8 am until 5:30 pm and Saturdays from 8 am until 1 pm.
To learn more about the wide range of luxury and custom glass products and services we offer, from shower doors and mirrors to windows, storefronts and door glass, or to inquire about glass repair or replacement services, contact us by email, come to of our showrooms, or call us at 908-782-0812 in Neshanic Station or at 609-530-1115 in Lawrenceville.
Glass Castle
Your #1 Source for All Things Glass!
We service residential and commercial customers across Northern and Central New Jersey and in Pennsylvania, including Lawrenceville, Bound Brook, Jersey City, Raritan, Montgomery Township, Basking Ridge, Bedminster, Princeton, Hopewell, Warren, Newtown and Neshanic Station