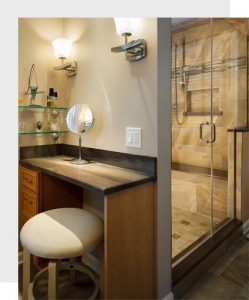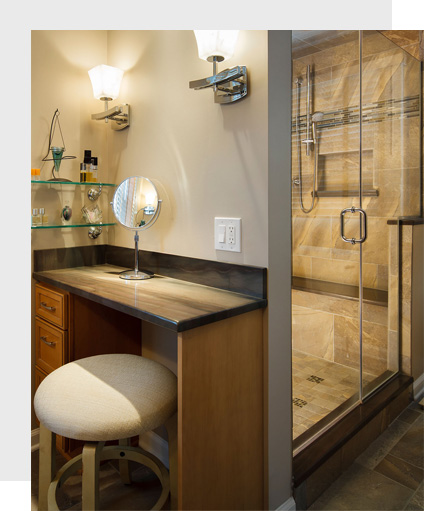 It's way past time to do something about the shower in your master bath or guest room. You've updated the rest of the house, but have been at a loss as to how to open up your bathroom, let a little light in and bring it into the 21st century. We can help.
Maybe it's your business. You've built a solid reputation and a loyal customer base, but you'd like to expand. Unfortunately, your storefront has seen better days. How about a custom glass façade, one where potential customers can see your products and your professionalism as they walk by. We can help with that, too!
At Glass Castle, we have designed, created and installed a wide range of custom glass products for homeowners and businesses in Hopewell and the surrounding communities in Central and Northern New Jersey for more than 30 years. Our loyal staff brings nearly a century of combined experience in the glass business to every project we take. Over the past three decades, we've installed more than 75,000 glass shower doors and enclosures in homes throughout New Jersey and Pennsylvania. Our designers love to create unique designs, not only for shower enclosures, but for furniture and storefronts. We can create a one-of-a-kind table or other piece of furniture that allows you to make a personal statement, or help you imagine and implement a storefront that sets your business apart from the competition.
To learn more about all the custom glass services we offer, call our stores in Neshanic Station (908-782-0812) or in Lawrenceville (609-530-1115).
Custom Glass Solutions to Make Your House a Home
You've decided to remodel your bathroom. Think glass! Without changing the footprint of your bathroom, you'll immediately feel like you have twice the room. Another great benefit to a glass shower enclosure—it requires far less maintenance than other types of shower doors and it's much easier to clean.
When you come to Glass Castle, you'll have the option of choosing one of our many prefabricated glass shower doors. We keep a large inventory in stock, so you have a wide range of alternatives. We're guessing, though, that, as long as you're putting in a new shower enclosure, you'll want to work with one of our designers to craft a unique design that makes a personal statement.
If you want to design and install a one-of-a-kind glass shower enclosure, we'll come to your home, so that we can see what your space looks like, get a sense of your personal style, and identify what we'll need to do to make your dream a reality. We'll carefully measure everything and determine where your load-bearing walls are located, so that we can identify the optimal location and orientation for your new custom glass shower door. We'll confirm that:
You have adequate structural support for your glass shower door
You have sufficient ventilation and air flow to prevent the accumulation of moisture, mold or mildew. If not, we will tell you what you need to do to remedy the situation.
We will also determine the best location and trajectory of your shower heads, so that you run the risk of getting excess water on the floor or in the surrounding areas.
At Glass Castle, We Make Installation Easy
At Glass Castle, because we have a large and well-trained staff of experienced custom glass technicians and always carry a large inventory of 3/8" and 1/2" glass shower doors, we can typically begin installation shortly after we get your design approval.
For a free quote on the cost of any type of custom glass project, call us at one of our stores or contact Glass Castle by email.
How a Custom Glass Storefront Will Benefit Your Hopewell, New Jersey Business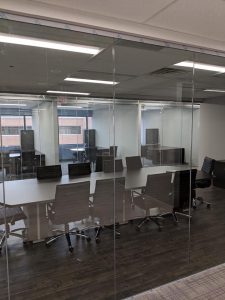 Here are some the great reasons to replace your existing storefront with glass:
Glass naturally attracts the attention of passersby—Glass caters to the natural curiosity of the human species. When people can observe what's going on inside your business, they are more inclined to come through the door and take a closer look.
Glass lets you be more creative in your displays and change them out on a regular basis—With a glass storefront, you're limited mostly by your imagination, constantly creating one-of-a-kind visual attractions. You can also emphasize sales items, inform customers about new products, and provide useful information, so that potential customers learn more about your business and its goods or services—the more they know, the more likely they'll be to purchase your products. You won't be stuck with a static marketing image or message, either. You can swap out displays to match the seasons or highlight a holiday.
Glass storefronts are typically more energy efficient, saving you money on heating and cooling
Historically, glass storefronts typically have a higher fair market value than businesses with traditional storefronts
At Glass Castle, we design and install custom glass storefronts for both new and existing businesses. We will always use the highest-quality materials that allow us to stay within your budget.
Let Glass Castle Help with All Your Custom Glass Needs in Hopewell, New Jersey
We give you a free estimate of the costs of any glass project and offer a price match guarantee—we'll meet or beat any price from another glass installation, design and repair company. Our store is open weekdays from 8 am until 5:30 pm and Saturdays from 8 am until 1 pm.
To learn more about the wide range of luxury and custom glass products and services we offer, from shower doors and mirrors to windows, storefronts and door glass, or to ask any questions about glass repair or replacement services, contact us online, come to of our showrooms, or call us at 908-782-0812 in Neshanic Station or at 609-530-1115 in Lawrenceville.