Glass Castle—Meeting Your Needs for More than Three Decades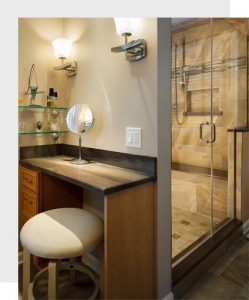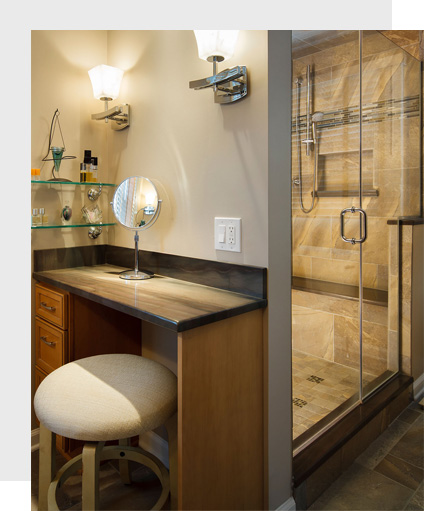 You want a new look—maybe it's at your home, where your shower and bathroom feel dank, dark and dreary. Maybe you're opening a new business or looking to put a new face on an existing one. Think custom glass! There's nothing that brightens up any area like glass, often giving the feel and impression of more space. It's a breeze to clean and maintain glass, too. And you'll be pleasantly surprised at how creative you can be with glass, whether you're installing a new shower door or storefront, or adding an elegant piece of furniture to your home.
At Glass Castle, we bring more than 75 years of combined experience to homeowners and businesses in Old Bridge, New Jersey and throughout Central and Northern New Jersey, as well as Eastern Pennsylvania. Since our inception more than 30 years ago, we have completed custom and/or prefabricated glass shower door/enclosure installations for more than 75,000 customers. Our staff designers will take the time to listen to your ideas and work closely with you to create unique glass furniture pieces, such as tables or mirrors, that help you make a personal statement. We can also give your business a facelift with a custom glass storefront, so that potential customers can readily see all you have to offer.
To learn more about the many different ways we can assist you with a custom glass creation, contact us by e-mail or call our stores in Neshanic Station (908-782-0812) or in Lawrenceville (609-530-1115).
Custom Glass Solutions for Homeowners in Old Bridge, New Jersey
You've been tired of your bathroom for a long time, but you just didn't know what to do. Your old shower is difficult to keep clean, and it makes the whole bathroom feel like a closet. With a glass shower enclosure, you'll think you knocked out a wall and doubled the size of the room. You'll also be thrilled at how easy it is to keep clean.
At Glass Castle, you can choose between one of our many prefabricated glass shower doors or you can work with a designer to create a one-of-a-kind glass shower. Because we maintain a large inventory of attractive and elegant pre-made shower enclosures, you'll usually find one in stock that fits your existing space, as well as your personal tastes.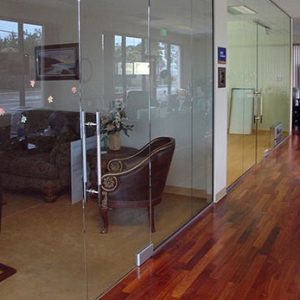 But why not take a little extra time and create your own shower door? When you hire us to help you design and install a unique glass shower enclosure, we'll start by visiting your home, so that we can see what your space looks like and help you imagine what might take its place. We'll carefully measure everything and identify where load-bearing walls are located, so that we'll know the best location and orientation for your new custom glass shower door. That includes:
Verifying that you have the necessary structural support for your glass shower door
Determining the optimal location and trajectory of your shower heads, so that you minimize the risk of water on the floor or surrounding areas
Assessing whether there is adequate ventilation and air flow to prevent the accumulation of moisture, mold or mildew. If not, we will identify what you need to do to avoid this problem.
Observing your personal sense of style, so that we can design a shower enclosure that makes the personal statement you want
At Glass Castle, Your Glass Installation is Easy
At Glass Castle, we have a large staff of experienced custom glass technicians and always carry a large inventory of 3/8" and 1/2" glass shower. In most instances, we can start your project within days or weeks of your design approval.
To get a free quote on the cost of any type of custom glass project, call us at one of our stores or contact Glass Castle online.
The Benefits of a Custom Glass Storefront for Your Old Bridge, New Jersey Business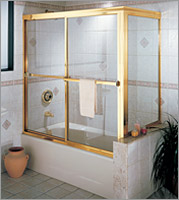 Consider just a few of the good reasons to replace your existing storefront with glass:
Glass makes it easier to get the attention of potential customers—Glass caters to the natural curiosity of most people. If people can see what's going on inside your business, you can bet they'll step up to the window and watch. That gives you lots of opportunities to showcase who you are and what you offer.
Glass lets you promote brands and market products more naturally—With a glass storefront, you can display merchandise or services in natural settings, and you can put more goods and services in front of people. You can also emphasize sales items, inform customers about new products, and provide useful information, so that potential customers learn more about your business and its goods or services—the more they know, the more likely they'll be to purchase your products.
A glass storefront can save you money, as you'll typically spend less for heating and cooling
Historically, glass storefronts add value to the market price of a business
At Glass Castle, we work with existing businesses and new enterprises to design and install custom glass storefronts. We are committed to using the highest-grade materials while staying within your budget.
Let Glass Castle Help with All Your Custom Glass Needs in Old Bridge, New Jersey
We give you a free estimate of the costs of any glass project and offer a price match guarantee—we'll meet or beat any price from another glass installation, design and repair company. Our store is open weekdays from 8 am until 5:30 pm and Saturdays from 8 am until 1 pm.
To learn more about the wide range of luxury and custom glass products and services we offer, from shower doors and mirrors to windows, storefronts and door glass, or to ask any questions about glass repair or replacement services, contact us online, come to of our showrooms, or call us at 908-782-0812 in Neshanic Station or at 609-530-1115 in Lawrenceville.