Showers and Shower Enclosures | Custom Glass Furniture | Unique Glass Storefronts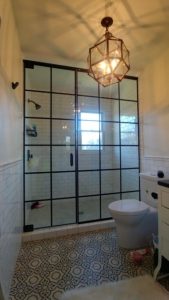 You've had the same shower enclosure in your bathroom forever. It's hard to keep clean and it makes the bathroom feel like a tomb.
You've been running your own business for years and your storefront is starting to look a bit dated.
Whether you're a homeowner looking to brighten up the interior of your home or a businessperson looking to attract a new customer base, a custom glass creation can be just what you need. Without changing the footprint of your bathroom, you can immediately feel like you have more space. Glass is also easy to clean and maintain—no more scrubbing away the mildew in the corners. A glass storefront can also be a window in from the world, allowing passersby to see the exciting things you have to offer.
If you'd like to experience the wonder, grace and beauty of glass, in your home or at your business, come to Glass Castle.
Meeting the Needs of Businesses and Homeowners for More than Three Decades
At Glass Castle, with showrooms in Neshanic Station and Lawrenceville, we offer a wide array of services to customers in Yardley, Pennsylvania and the surrounding areas, including North and Central New Jersey, designing, building and installing many different custom glass products, including glass shower doors and enclosures, glass tables and other furniture. We also design and create custom glass store facades. In our years in business, we've installed more than 75,000 glass shower doors and enclosures in homes across New Jersey and Pennsylvania.
To learn more about the full range of our custom glass services call us at our showrooms in Neshanic Station (908-782-0812) or Lawrenceville (609-530-1115).
Glass Creations that Make a Personal Statement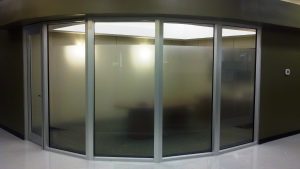 Whether you're looking for that "wow" factor or something with simple elegance, you'll find what you want with a custom glass creation. Our experienced designers can help you tap into your imagination. We'll come visit your home or business as a part of the design process, so that we know exactly what your space looks like, where your structural support is and what you might need to make your design dreams come true. We will ensure that you have:
Load-bearing support in all the necessary places to safely install your glass creation
Sufficient ventilation and air flow around the shower and throughout the bathroom, so that you minimize the risk of accumulations of moisture, mold or mildew.
The right orientation and placement of fixtures, so that you avoid water on unwanted surfaces
If you need any modifications to accommodate your custom glass design, we can make the necessary recommendations and help get them completed.
Enjoy the Ease of Maintenance that Comes with a Custom Glass Creation
Sure, custom glass looks great. But it's also a breeze to clean and maintain. You'll spend less time and elbow grease trying to keep surfaces free from soap residue and mildew.
We Also Offer Prefabricated Shower Enclosures
Though we always suggest a custom glass creation, we understand that, for a variety of reasons, many of our customers may prefer to choose from our large selection of prefabricated glass shower doors. We carry an extensive inventory of 3/8" and 1/2" prefabricated glass shower doors, so that you'll have many options from which to choose. That also allows us to start and complete your project within days of obtaining getting your approval.
We offer a free quote on the cost of any type of custom glass project. To learn more, call us at one of our stores or contact Glass Castle online.
Catch Your Customer's Eye with a Custom Glass Storefront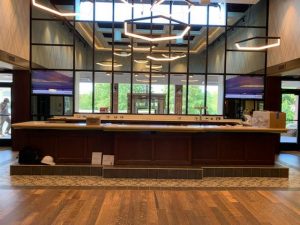 Did you know that, on average, businesses with a custom glass storefront command a higher price in the market? That's not the only benefit, though, to making your store's façade a window on the world. Consider these additional features:
Glass naturally draws a potential customer's attention—Curiosity is just a natural part of being human. When our eyes catch something, we are naturally drawn in. When your potential customer can see all the merchandise on the other side of the glass, there's an instinctual desire to go in, take a closer look, and even hold the product in your hand.
Glass opens up virtually endless marketing opportunities—With a glass storefront, your window display suddenly takes on a third dimension, infinitely more engaging than a two-dimensional advertisement. Because of the ease with which you can vary or adapt a display, your advertising becomes dynamic—potential customers will start to anticipate the changes. You can take advantage of seasonal themes to market different products.
Glass storefronts are known to offer greater energy efficiency, lowering the costs of heating and cooling your business
At Glass Castle, we work closely with new and existing businesses, helping you design custom glass storefronts that make you stand out from the competition. We also use only the highest-quality materials that allow us to stay within your budget.
Glass Castle—Meeting All Your Custom Glass Needs in Yardley, PA
At Glass Castle, we provide all new customers with a free estimate. We also offer a price match guarantee—we'll meet or beat any quote you receive from another glass installation, design or repair company. We are available to meet with you weekdays from 8 am until 5:30 pm and Saturdays from 8 am until 1 pm.
To learn more about the wide range of luxury and custom glass products and services we offer, from shower doors and mirrors to windows, storefronts and door glass, or to ask any questions about glass repair or replacement services, contact us online, come to of our showrooms, or call us at 908-782-0812 in Neshanic Station or at 609-530-1115 in Lawrenceville.