Custom Glass Installations | Custom Glass Repair | Glass Storefronts | Custom Shower Doors | Home or Business
There's nothing like glass to add elegance to a home or business. Whether you want to create a glass storefront to make your place of business feel more open and inviting, you want a glass shower enclosure to enhance the space in your bathroom, you want custom glass furniture to bring beauty to a room, or you simply need some glass replaced or repaired, the experts at Glass Castle can help.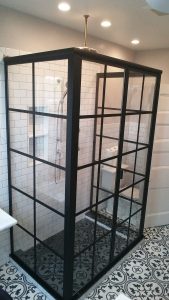 At Glass Castle, we have met all the custom glass needs of businesses and homeowners in Central and Northern New Jersey, and across Eastern Pennsylvania, for more than three decades. Our experienced staff offers more than 75 years of combined experience in custom glass installation and repair. Our approach has always been simple—we treat your home or business like it was our own and will always exercise the highest levels of care and attention to ensure your total satisfaction.
In our years in business, we have installed glass shower doors and enclosures for more than 75,000 customers. We install custom or prefabricated glass shower doors, and can provide framed, semi-frameless or fully frameless enclosures. Our glass technicians have the knowledge, skill and experience to successfully repair or replace any type of glass, and can work with you to design and create a wide range of glass items, from mirrors and tabletops to custom glass furniture. We understand the importance of protecting custom glass creations, and offer a number of options for safeguarding your glass projects. We also offer custom glass tinting.
To learn more about the full range of services we offer, to set up a repair or replacement, or to take the first step toward creating that custom glass project you've always dreamed of, contact us by e-mail or call one of our stores, either in Neshanic Station (908-782-0812) or in Lawrenceville (609-530-1115).
Glass Shower Doors and Enclosures | Lawrenceville, New Jersey
Whether you have a one-of-a-kind glass shower in mind or want to have a prefabricated glass shower installed, Glass Castle can help. Once you've had an opportunity to meet with our professionals and give us a general idea of what you want to accomplish, we'll make a trip to your home, where we'll take a closer look at the space where you'll have the glass shower door installed. We will take precise measurements and check for studs, beams, trusses and other structural support, so that we can confirm that the shower enclosure can be safely installed. We'll determine:
How much weight the walls will support, so that we can identify the best location and optimal orientation for the glass shower door, as well as whether additional structural support will be required
Where shower heads need to be placed to minimize water on the floor or in the surrounding area
How your bathroom and shower area are ventilated and whether steps need to be taken to improve airflow and minimize the risk of moisture and mildew
Glass Castle Can Help You with the Design of Your Project
At Glass Castle, we have designers on staff to help you create a unique, attractive and functional glass shower door or enclosure. You don't need to know exactly what you want—just bring us your ideas and we will collaborate with you to turn your dreams into reality. Once you know what you want, it won't take long to get the project started. We always have an extensive inventory of 3/8" and 1/2" glass shower doors, and can typically start your project within a short period of time.
We provide a free estimate for any custom glass project. For an appointment, call us at one of our stores or contact Glass Castle online.
Custom Glass Installation and Design Services for Businesses in Lawrenceville, NJ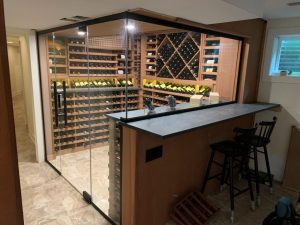 A new glass storefront can help you showcase your goods and services while standing out from the crowd. Whether you're remodeling an existing façade or opening a new business/location, Glass Castle can help you design and install a storefront that catches everyone's attention. Our designers have helped many businesses use glass to appeal to customers, and our talented and detail-oriented technicians can help turn concept into reality. We understand the importance to every business of paying close attention to the bottom line. We'll carefully monitor costs, ensuring that we stay within your budget while using the highest quality materials.
Glass Castle—Your One-Stop Center for Residential or Commercial Glass in Lawrenceville, New Jersey
To learn more about variety of custom glass services we provide at Glass Castle, visit our showrooms in Lawrenceville or Neshanic. We offer a free consultation and a free estimate to every customer, as well as a price match guarantee—we'll meet or beat any estimate from another glass installation, design and repair company. We are open weekdays from 8 am until 5:30 pm and Saturdays from 8 am until 1 pm.
To learn more about the wide range of luxury and custom glass products and services we offer, from shower doors and mirrors to windows, storefronts and door glass, or to inquire about glass repair or replacement services, send us an e-mail, come to of our showrooms, or call us at 908-782-0812 in Neshanic Station or at 609-530-1115 in Lawrenceville.