Residential and Commercial Glass Installation | Shower Doors | Glass Repairs | Storefront Upgrades | Custom Installations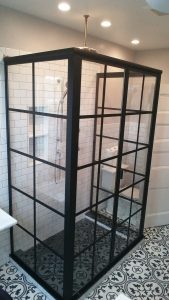 Do you need a custom glass shower door installation? Are you looking to upgrade your storefront glass? Have cracked or broken glass in your home or at your business? Need someone to handle a custom glass installation? The pros at Glass Castle of New Jersey can help.
At Glass Castle, we have proudly served homeowners and businesses for more than three decades, and bring more than 75 years of combined experience in the custom glass industry to customers across Northern and Central New Jersey, including Montgomery Township. Since 1990, we have installed more than 25,000 glass shower doors, including frameless, semi-frameless and framed glass shower door enclosures. We also offer a wide range of other glass solutions for home and business, including custom mirrors, glass tabletops and glass furniture. We can repair or replace any type of glass, and offer tinting and protection services. To learn more about the ways we can be of service to you, contact us online or call us at 908-782-0812 in Neshanic Station or 609-530-1115 in Lawrenceville.
Your Glass Shower Door Source in Montgomery Township, New Jersey
At Glass Castle, we offer a wide array of glass shower door solutions. We'll work closely with you to design glass shower doors that fit perfectly in a new or existing bathroom and that complement the overall appearance and functionality of your space. We maintain an extensive inventory of 3/8" and ½" frameless, semi-frameless and sliding glass doors, so that we are always prepared to start your project in a timely manner.
To initiate an installation, contact our offices to schedule a visit from one of our glass specialists. We'll measure your existing space, consider the existing or anticipated décor and carefully address all potential concerns, including:
The ideal placement of shower heads so that you don't get water on the floor or surrounding area when shower doors are open
The location of load-bearing supports, so that we know where a glass shower can be placed, how heavy the glass can be, and whether you may need to provide additional structural support to accomplish your goals
Existing ventilation in the bathroom and shower area, so that your bathroom does not have excessive moisture levels
We have designers on staff who can help you create the glass shower of your dreams. When we handle an installation or repair, our team members will treat your home with the utmost care and respect.
Custom Commercial Glass Products and Services in Montgomery Township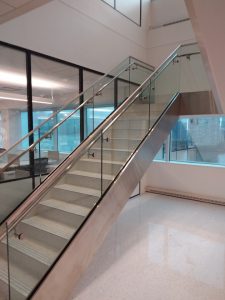 At Glass Castle, we can design and install a glass storefront that stands out from the crowd, enhancing your visibility and potential client base. We combine professional craftsmanship with the finest materials, and always maintain a strong commitment to completing your project on time and within your budget. We have extensive experience with glass installation in new construction, as well as total or partial renovations.
Let The Professionals at Glass Castle Handle All Your Residential or Commercial Glass Needs
At Glass Castle of New Jersey, we specialize in quality glass products for home or business, including glass shower doors, storefronts, windows and doors. We handle all types of glass repair or replacement, as well as jobs requiring custom glass installation. Stop by our showrooms in Neshanic or Lawrenceville to see all we have to offer. Our showrooms are open Monday through Friday, from 8 am until 5:30 pm and Saturdays from 8 am until 1 pm.
We offer a free consultation to every potential customer, as well as a free estimate. In addition, we'll meet or beat any estimate from a competitor.