Custom Glass Storefronts | Custom Glass Shower Doors | Glass Furniture | Glass Repair and Replacement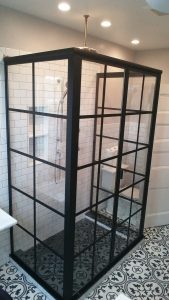 You're building a new home and you want a master bath that makes a personal statement. It's time to remodel your existing bathroom and you want something attractive and easy to maintain. You're opening or expanding a business and want a storefront that jumps out as potential customers pass by. Think custom glass! It opens up any space, it's easy to clean and maintain, and it can be tailored to fit your needs and aesthetics. Glass Castle can help.
At Glass Castle, we have worked closely with homeowners and businesses for more than 30 years, designing, installing and repairing all types of custom glass items, from shower enclosures, tables and unique furniture to storefronts. We offer more than 75 years of combined experience in custom glass design, fabrication and installation to homeowners and businesses in North Plainfield and throughout Central and Northern New Jersey and Eastern Pennsylvania. We take an individualized approach to virtually every project. Our talented and experienced designers and installers will take the time to learn your vision, brainstorm with you, and provide you with a finished product that realizes your dream.
In our decades in business, we have installed more than 75,000 custom and prefabricated glass shower doors for homeowners in Pennsylvania and New Jersey. We handle all types of custom glass repair and replacement, including custom glass tinting, and offer a range of products to help protect your glass creations.
For assistance with or questions about any custom glass project, contact us by e-mail or call our stores in Neshanic Station (908-782-0812) or in Lawrenceville (609-530-1115).
Custom Glass Shower Door Design and Installation in North Plainfield, New Jersey
Is it time to upgrade your bathroom? Does it feel like you're walking into a tomb? Is it difficult to keep your bathroom clean and dry? It's time to replace that old, tired shower enclosure with a custom glass creation. With glass, the same space can suddenly feel much larger. Glass is also one of the easiest surfaces to clean.
At Glass Castle, we carry a large inventory of prefabricated glass shower doors, and will typically have one that fits your existing space. We also have experienced and talented designers who can transform your existing bathroom, making it more functional and more aesthetically pleasing.
If you decide to let us design a custom glass shower enclosure for you, we'll come to your home, so that we can carefully examine your existing space and observe your personal sense of style. We'll take all the necessary measurements and determine where your load-bearing walls are located, so that we can ascertain the optimal placement and orientation of your shower door enclosure. We will also:
Verify that you have the necessary structural support for a glass shower door
Calculate the potential trajectory of your shower heads to avoid spraying water on the floor or the surrounding areas
Look at existing air flow and ventilation in your bathroom and design any changes required to prevent the accumulation of moisture, mold or mildew
At Glass Castle, We Make Custom Glass Installation Easy and Affordable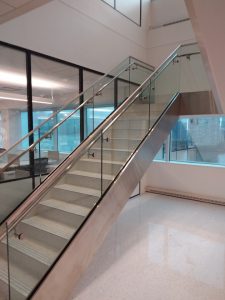 With a custom glass creation from Glass Castle, you're only limited by your imagination and your budget. Our designers will take the time necessary to ensure that we are following your vision. Once you approve the design, we'll start your project as soon as possible. Because we have a large staff of experienced custom glass technicians, and carry an expansive inventory of 3/8" and 1/2" glass shower doors in our warehouse, we can typically start building and installing your shower enclosure within days or a couple weeks.
To get a free quote on the cost of any type of custom glass project, call us at one of our stores or contact Glass Castle online.
Make Your North Plainfield Business Stand Out with a Custom Glass Storefront
A glass storefront offers many advantages:
You'll naturally draw potential customers in—It's human nature to keep our eyes open for interesting things when we walk down the street. A glass storefront lets a potential customer see more than the displays in your window—they'll be able to witness all the activity in your store. That typically makes them want to come in and learn more.

Glass makes it easier to promote your brand and market your products—A glass storefront lets you display your products in creative, attractive and dynamic ways, drawing the attention of passersby. You can spotlight sales items, inform customers about new products and provide information to help potential buyers understand your merchandise better

Glass has been proven to be more energy efficient, consistently reducing the costs of heating and cooling your business

Historically, commercial property with glass storefronts carries a higher market value—When it comes time to sell your business and retire, you can typically ask more if you have a glass storefront
At Glass Castle, we create custom glass storefronts for existing businesses and new enterprises. We understand the importance of staying within your budget, and will provide the best service using the best materials while carefully managing costs.
Come to Glass Castle for all Your Custom Glass Needs in North Plainfield, New Jersey
We will provide an estimate of the costs of your project at no cost to you. We also offer a price match guarantee—we'll meet or beat any price from another glass installation, design and repair company. We are open weekdays from 8 am until 5:30 pm and Saturdays from 8 am until 1 pm.