Your home in Plainsboro is already immaculate, so can it get any better? With the first-rate glass services that Glass Castle provides, the inside of your living quarters can be matchless. Our products are custom manufactured. Since they will correspond to your specifications, they are going to create the look that you desire to see. Why enhance only your home when we can make one-of-a-kind glass elements for your place of business? Our aesthetically pleasing glass products are beyond suitable for many commercial settings. That's why you will get your money's worth at Glass Castle. Put our residential and commercial services to the test if you want some architectural features that will add sophistication and elegance to your property in Plainsboro, NJ. Let us know if this is what you are looking for:
Custom Mirrors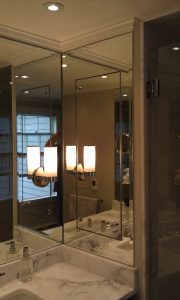 It's undeniable that custom mirrors have the power to enhance and complement rooms of any size. Choose the right one, and you will achieve your desired result. This fact is only the top reason they are a worthwhile investment. If you ask us to install a custom mirror at your home in Plainsboro, we will design a product for you after we familiarize ourselves with your vision. Glass Castle is a leading provider because we are known for doing high-quality installations. No matter what your preferences are, every mirror you get from us will meet your standards.
The shower is a big focal point in most bathrooms, so you will benefit from letting us retrofit your shower with custom doors. You won't regret your decision if you love quality and seek top-notch value. When we put in our see-through doors, you will notice several improvements. The glass that we install helps to eliminate blind spots in the bathroom. Why stare at an opaque curtain if we have a beautiful alternative that will work even better? Water won't find a way around our well-built product. Plus, to break or shatter the custom shower doors that we provide, you have to do more than just bump into them because they aren't fragile.
Window Glass Repair and Replacement
It's unfortunate, but glass elements have a tendency to succumb to unsightly problems as they take on more wear and tear. The good news revolves around Glass Castle and our ability to repair and replace damaged glass. This means you shouldn't be so quick to get rid of the components that you own. We are positive we possess the right skills and technology to fulfill your needs. There is no guesswork involved. Depending on what's wrong, we will provide you with our best recommendation. Whether we fix the chipped and discolored areas or design and install a brand-new replacement, you will have zero complaints because the results will be as excellent as our customer service.
Now that you know all about our top residential and commercial services, call Glass Castle today or at your earliest convenience.