Design and Installation of Custom Glass Shower Enclosures |Custom Glass Furniture | Custom Glass Storefronts | Glass Repair and Replacement | Glass Tinting and Protection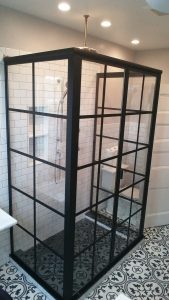 When you want a look that sets your home or business apart, there's nothing like glass. It's open and inviting, bringing in light and warmth to any environment. With a custom glass creation, your only limit will often be your imagination. Even better, it's simple to maintain and easy to keep clean. Whether you're looking to enhance the appearance of your business or create a space in your home that shows off your personal style, Glass Castle can help.
At Glass Castle, we bring more than 75 years of collective experience in the custom glass business to homeowners and businesses in Warren, New Jersey and the surrounding communities. Over the past three decades, we have installed more than 75,000 custom and/or prefabricated glass shower doors and enclosures for customers throughout Central and Northern New Jersey and in Eastern Pennsylvania. We work with customers to design "one of a kind" glass furniture pieces, including tables, mirrors and other items. We will also help you transform your storefront with glass, so that passersby can see and learn more about all you have to offer.
If you have questions about a potential custom glass creation, or want to learn more about the ways we can help, contact us by e-mail or call our stores in Neshanic Station (908-782-0812) or in Lawrenceville (609-530-1115).
Custom Glass Creations for your Warren, New Jersey Home
Does your bathroom feel dark and dreary? Are you constantly battling soap scum, mold and mildew? Does it feel like you're walking into a closet? Open that space up with a custom glass shower enclosure. Glass is much easier to clean than other surfaces, and it'll make your bathroom seem more spacious.
At Glass Castle, we stock an extensive array of prefabricated glass shower doors, so you can usually find one that fits your existing space, as well as your personal tastes. If you're going to replace your shower door with glass, though, why not take the extra step and install a custom glass enclosure. Our experienced and talented designers can take your basic concepts and fashion a masterpiece.
Before we design your custom glass enclosure, we'll visit your home, so that we can see the existing space and learn more about your personal sense of style. We'll determine the size of your space and locate all load-bearing walls, so that we can identify the ideal placement and orientation of shower doors and other fixtures. We will also:
Ensure that you have the necessary structural support for a glass shower door

Confirm the trajectory of your shower heads to minimize the risk of water on the floor or the surrounding areas

Verify that you have adequate air flow and ventilation in your bathroom and determine if any changes will be required to prevent the accumulation of moisture, mold or mildew
At Glass Castle, We Take the Hassle Out of Custom Glass Installation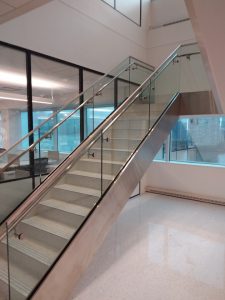 At Glass Castle, our designers will work closely with you to ensure that the proposed project meets your expectations. Because we have a large staff of experienced custom glass technicians, and carry an expansive inventory of 3/8" and 1/2" glass shower doors in our warehouse, we can typically start building and installing your shower enclosure within days or a couple weeks of your design approval.
To get a free quote on the cost of any type of custom glass project, call us at one of our stores or contact Glass Castle online.
The Advantages of a Custom Glass Storefront for Your Warren Business
There are many reasons to have a glass storefront for your business:
It catches the attention of potential customers—We are, by nature, an inquisitive species. When we're out on the street, we're typically looking to see what is around us. A glass storefront lets us see more than what is in the window—we can usually see most of the activity in the store, which can make us want to go in and learn more.

Glass makes it easier to promote brands and market products—A glass storefront lets a business display merchandise or services in creative, attractive and dynamic ways. Merchants can spotlight sales items, educate customers about new products and provide useful information to help potential buyers learn more about the business and its goods/services

Glass is known to be more energy efficient, leading to reduced costs for heating and cooling a business

Historically, glass storefronts increase the fair market value of commercial space—When you're looking to sell, you can typically command a higher sales price with a glass storefront
At Glass Castle, we create custom glass storefronts for existing businesses and new enterprises. We will pay close attention to your budget, offering the best service with the highest quality materials while carefully managing your costs.
Choose Glass Castle for all Your Custom Glass Needs in Warren, New Jersey
We will provide an estimate of the costs of your project at no cost to you. We also offer a price match guarantee—we'll meet or beat any price from another glass installation, design and repair company. We are open weekdays from 8 am until 5:30 pm and Saturdays from 8 am until 1 pm.
To learn more about the wide range of luxury and custom glass products and services we offer, from shower doors and mirrors to windows, storefronts and door glass, or to ask any questions about glass repair or replacement services, contact us online, come to of our showrooms, or call us at 908-782-0812 in Neshanic Station or at 609-530-1115 in Lawrenceville.
Glass Castle
Your #1 Source for All Things Glass!
We service residential and commercial customers across Northern and Central New Jersey and in Pennsylvania, including Lawrenceville, Warren, Jersey City, Raritan, Montgomery Township, Basking Ridge, Bedminster, Princeton, Hopewell, Warren, Newtown and Neshanic Station