Located in Washington Township NJ and looking to build the home of your dreams from the ground up, or just seeking for updates to renew and rejuvenate the look of your house, the glass you pick can truly change the look and feel of both the interior and exterior. A custom made design can create a true uniqueness to make your home more personal and tailored to you. If you are a business, the look of your building can give potential clients the modern and refined image you are seeking to portray. Selecting a high-quality glass service can put the finishing touch on your designs. At Glass Castle, we provide exceptional service with durable glass to create a refined look that can stand up to the test of time and usage.
Residential Services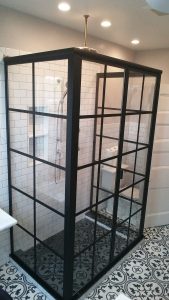 Glass Castle provides many different types of glass work for residential homes, whether for an update or for a brand new installation. One of our most unique services is frameless shower installation, which is offered by very few contractors. Other shower installations include framed, semi-frameless, and sliding enclosures. Services are also provided for other areas of the home, such as mirrors which can be custom built and outfitted to any area of your choosing. We also offer glass tabletops and furniture, screens, kitchen cabinet glass, thermopane replacements, and storm inserts.
Commercial Services
The look of your store is an important part of your business, and Glass Castle offers multiple services to help create a professional environment. We can create entire storefronts, letting you choose what customers see when they first visit your business. We install aluminum doors and windows in multiple forms to suit your needs, as well as different types of insulated glass replacements and fire rated glass. Receptionist sliders, curtain walls, and railing systems are also available to give your business a polished feel.
Glass Replacement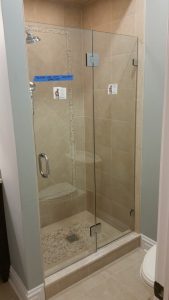 Over time and usage, glass windows can begin to discolor, or even possibly get damaged. When this occurs the look of your home or business will begin to fade, especially as more cracks and chips appear in your windows. To fix this issue, the expert technicians at Glass Castle can take an assessment of the damage. Based on this assessment, they will be able to either repair and restore your glass to look good as new, or offer a replacement that will return your home or business to its original beauty. When replacing glass, it is important to contract professionals, as the replacement process itself can be dangerous.
When adding glass to your home or business, the right installation can change the entire look and feel. Whether for windows, showers, or other unique needs, Glass Castle can create your perfect design. Serving the communities or Turnersville, Hurffville, Grenloch, CrossKeys, Mayfair, Bunker Hill, and Chapel Heights in Washington Township, we are proud to offer our services to both the family community as well as the excellent businesses in the area. If you would like a free estimate on your next project, contact Glass Castle today.