At Glass Castle, we take great pride in being the premier glass company for homes and businesses in Far Hills, New Jersey. Looking back on almost 30 years of dedication to quality and craftsmanship, we are proud to be part of the great American legacy of hard work and perseverance for which Central New Jersey is known.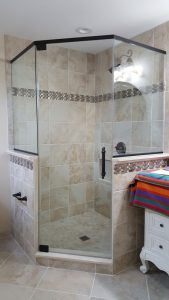 We at Glass Castle partner with only the most dedicated manufacturers so that we can provide the quality and elegance that you deserve. These companies share our pride in workmanship and innovation both in the high quality and modern design of the products that we offer.
Shower enclosures are one of the luxury design elements for which Glass Castle is known. Bathrooms have become showcases of utility and design in recent years, and we are proud to have been at the forefront of these exciting innovations.
When you meet with our team, we will help you bring your bathroom concept into reality. We will walk you through every step of the process, from choosing the best glass and hardware for your project to scheduling professional installation. Are you unsure of your final design? We can help you. Our team can show you the latest in luxury shower enclosure designs and share with you the newest glass manufacturing innovations such as easy-to-clean shower glass protective coatings.
There are many other areas of your home where we can offer our expertise in providing for your glass needs. We offer glass for glass cabinetry and furniture elements throughout your home such as glass tabletops and inserts. For fine furniture, we can create glass tops to help them from scratches and other damage. Custom mirrors are another specialty for which we can provide design and installation services. For your home's windows, we offer screens and storm inserts, as well as tinted windows.
For your Far Hills business, we can assist you in creating an innovative environment in either an existing or newly built space. Thoughtfully designed glass elements can elevate the aesthetic of your business by creating a modern and welcoming environment. Our team can meet with you and introduce you to the latest in commercial glass design including storefronts, interior glass walls and other glass design elements. We also provide receptionist sliders, aluminum doors and windows, as well as stairway rail systems for all of your commercial glass needs.
We take great pride in our restoration, repair and replacement services. Whether you have a glass element in your home or business that is scratched, chipped, discolored or broken, our team can provide a solution.
Whether you need custom glass design services for your Far Hills home or business, we look forward to being your glass design team.