Custom Glass Design and Installation | Glass Shower Doors | Glass Storefronts | Glass Repair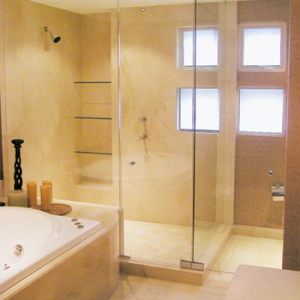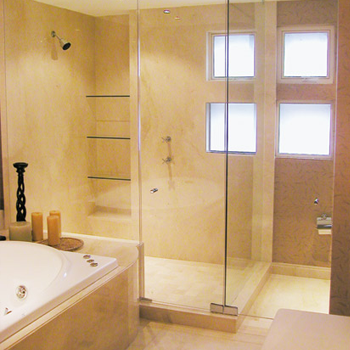 When you want that something special in a storefront, a shower door or a custom piece of furniture, there's nothing like glass to create a sense of space, openness and elegance. It's ideal for showcasing goods or services, and naturally draws customers into your store. In your home, glass offers warmth, space and accessibility. It's also easy to keep clean. If you're thinking about incorporating custom glass into your home or business, come to the experts at Glass Castle.
At Glass Castle, we have met all the custom glass needs of business owners and homeowners in Northern and Central New Jersey, and Eastern Pennsylvania, for more than three decades. We offer more than three quarters of a century of combined experience in all things related to custom glass design, installation and repair. We consider every customer to be our most important one—we'll take the time to get to know you, to learn about your visions for a custom glass installation and help turn your dreams into a reality. We'll treat your business or home as if it were our own, always taking great care to ensure that our products and service meet or exceed your expectations.
Over the past 30 years, we have installed glass shower doors in more than 75,000 homes in New Jersey and Pennsylvania. We offer a wide range of custom or prefabricated shower doors, including frameless, semi-frameless and fully framed enclosures. We have repaired countless glass doors, windows and other items, and can quickly and effectively fix or replace any type of glass. We also have team members who can take your rough ideas and work with you to design mirrors, glass tabletops, glass furniture and other glass creations. We offer glass tinting, as well as a number of products for protecting your custom glass.
To find out how we can help you with a custom glass need, send us an e-mail or call us at our stores in Neshanic Station (908-782-0812) or in Trenton (609-530-1115).
Glass Shower Door Experts in Trenton, New Jersey
Do you get claustrophobic when you go into the shower? Is it hard to keep the inside of your shower doors clean? Do you just need a new look in your bathroom, one that feels more open and presents a better appearance when you have overnight guests? Let Glass Castle help you design and install a custom glass shower enclosure.
At Glass Castle, we have what you need, whether it's a prefabricated standard glass shower enclosure, or a unique shower door. We understand that your home is a reflection of you, and that the design of every room can be a personal statement. We'll visit your home to get a feel for your sense of style, and to gather the information we need to ensure your installation is done properly. We will carefully measure everything and determine where your structural support is located, including studs and trusses. In preparation for your installation, we will:
Locate your load-bearing walls, so that we can Identify the optimal location and best orientation for your glass shower door
Confirm that you have adequate structural support for your desired shower enclosure
Determine the best location and trajectory of shower heads to avoid or minimize water on the floor or in the surrounding areas
Verify that your bathroom has adequate ventilation, and what measures can be taken to improve airflow and minimize the risk of moisture, mold and mildew
We Can Help You Create the Design You Want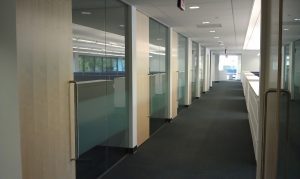 When you work with the experienced professionals at Glass Castle, you'll be limited only by your imagination. Our experienced designers will evaluate your space, listen carefully to your ideas and offer innovative options to meet your goals and turn your dreams into reality.
Once we've put together the design you want, we have the resources and experience to start and complete your project in a timely manner. We carry an extensive inventory of 3/8" and 1/2" glass shower doors and the staffing to start work on your project within a few days or weeks.
For a free quote on the cost of any type of custom glass project, call us at one of our stores or contact Glass Castle online.
Glass Castle—Meeting the Custom Glass Needs of Businesses in Trenton
A glass storefront offers a number of benefits:
It naturally draws customers in—When people walk along the streets in a commercial area, they're typically looking in the windows. With a glass storefront, they can see what's going on in your store, and are more inclined to come in and learn more.
It allows you to promote your brand and your products—With a nice glass storefront, you can create attractive and inviting displays with a wide array of your products. You also have the versatility to change displays on a regular basis.
It's an easy way to market your products—You can put signs in the window advertising sales, or promoting the features and benefits of your products
Glass typically increases energy efficiency
Businesses with glass storefronts typically have a higher property value
Whether you're making over an existing business or opening a new commercial enterprise, we can help you create and install a custom glass storefront. We understand your concerns about the potential costs of construction and remodeling—we'll work closely with you to ensure that we stay within your budget while providing with the highest levels of service and the best materials.
Glass Castle—The Custom Glass Experts in Trenton, New Jersey
To learn more about the range of custom glass services available at Glass Castle, come to our showrooms in Trenton or Neshanic. We will provide an estimate of the costs of your project at no cost to you. We also offer a price match guarantee—we'll meet or beat any price from another glass installation, design and repair company. We are open weekdays from 8 am until 5:30 pm and Saturdays from 8 am until 1 pm.
To learn more about the wide range of luxury and custom glass products and services we offer, from shower doors and mirrors to windows, storefronts and door glass, or to inquire about glass repair or replacement services, contact us by online, come to of our showrooms, or call us at 908-782-0812 in Neshanic Station or at 609-530-1115 in Trenton.