Shower Doors and Other Installations | Glass Repair | Glass Storefronts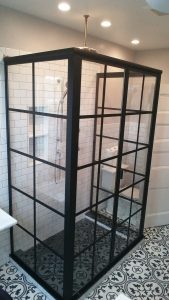 For warmth, elegance and aesthetics, in a home or business, there's nothing that compares to glass, whether it's an inviting glass storefront for your business, a glass shower door to open up your bathroom, or a glass table to highlight a dining room. When you want to bring the beauty and functionality of glass to your home or office, or need a glass fixture or other feature replaced, turn to the pros at Glass Castle.
At Glass Castle, we have been the "go to" place for all the custom glass needs of business owners and homeowners in Northern and Central New Jersey, as well as Eastern Pennsylvania, for more than 30 years. Our friendly staff brings over 75 years of combined experience in custom glass repair and installation to every customer. We built our reputation and our successful business on a strong commitment to provide unmatched personal service and attention to everyone who comes through our door. We'll always treat your home or business as if it were our own, using only the best materials and always exercising the utmost care in any installation or repair.
Over the past three decades, we have helped more than 75,000 customers enhance their bathrooms with custom or prefabricated glass shower doors and enclosures, including framed, semi-frameless or fully frameless enclosures. Because of our extensive experience, we can quickly and effectively repair or replace any type of glass. We also have talented staff members who can work with you to design and create a wide range of glass fixtures, from mirrors and tabletops to custom glass furniture. We offer a number of options for safeguarding your glass projects, as well as custom glass tinting.
To learn more about the ways we can help you with a custom or prefab glass project, to schedule a repair or replacement, or to turn your custom glass dreams into a reality or call one of our stores, either in Neshanic Station (908-782-0812) or in Hightstown (609-530-1115).
Glass Shower Doors and Enclosures | Hightstown, New Jersey
Does your bathroom feel like a cave, with shower curtains or doors closing in on you? Are you looking to open up the space with a glass shower door? We can help.
Whether you simply looking for a standard type of glass shower door or want something that stands out from the rest, the experts at Glass Castle can meet your needs. We understand that every home has its own unique characteristics, so once we've had the opportunity to get a basic understanding of what you hope to accomplish, we'll visit your home, so that we can see where you want your shower door and how it will fit into your décor. We will carefully measure everything and determine where all studs, trusses and other structural support are located. Before we start the installation, we will:
Confirm the best location and ideal orientation for your glass shower door, based on where your load-bearing walls are
Determine whether additional structural support will be required
Identify where shower heads should be placed/oriented to avoid or minimize water on the floor or in the surrounding areas
Evaluate whether your bathroom has appropriate ventilation or whether steps need to be taken to improve airflow and minimize the risk of moisture and mildew
Let Us Help You Design Your Project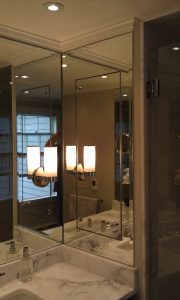 When you come to Glass Castle, you can let your imagination be your guide. We have creative and experienced designers who will listen carefully to your ideas and provide you with innovative and unique solutions.
After we have worked with you to finalize your design concepts, we can move quickly to turn your dream into a reality. We maintain an extensive inventory of 3/8" and 1/2" glass shower doors at all times, and can usually start work on your project within a few days or weeks.
To get a free estimate for any custom glass project, call us at one of our stores or contact Glass Castle online.
Meeting the Custom Glass Needs of Businesses in Hightstown, NJ
Whether you're making over an existing business or opening a new commercial enterprise, a custom glass storefront will help you stand out from the competition. Our designers can help you create a visually appealing façade that helps you showcase your products and services, and draws in new business. We are also attentive to the potential costs of construction and remodeling—we'll work closely with you to ensure that we stay within your budget while providing with the highest levels of service and the best materials.
Glass Castle—Meeting All Your Glass Needs in Hightstown, New Jersey
To learn more about variety of custom glass services we provide at Glass Castle, visit our showrooms in Hightstown or Neshanic. We offer a free consultation and a free estimate to every customer, as well as a price match guarantee—we'll meet or beat any estimate from another glass installation, design and repair company. We are open weekdays from 8 am until 5:30 pm and Saturdays from 8 am until 1 pm.
To learn more about the wide range of luxury and custom glass products and services we offer, from shower doors and mirrors to windows, storefronts and door glass, or to inquire about glass repair or replacement services come to one of our showrooms, or call us at 908-782-0812 in Neshanic Station or at 609-530-1115 in Hightstown.