For centuries, the shimmer of sparkling decorative glass has enriched living spaces. Today, custom glass products embellish many fine homes and businesses, adding beautiful design accents to help create impressive décor features. Now customers in the Greater Hillsborough Area of Bergen County, New Jersey obtain convenient glass services through a local company, Glass Castle. Find a variety of lovely glass products easily with our help! We offer turnkey design and installation services for many items.
Custom Glass Table Tops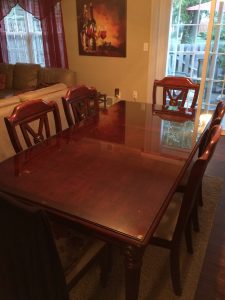 We create high quality glass table tops for customers. Request this service to help protect a lovely wooden table top more dependably against damage from spilled beverages or accidental scuffs and scrapes. Glass Castle tailors these products to fit customer specifications. Visit our gallery soon to appreciate the artistry underlying these elegant custom designs.
Beautiful Mirrors
Glass Castle also offers a great selection of custom mirrors. Interior decorators frequently employ mirrors to create an illusion of expanded space in small or unusually-sized rooms. Use lovely mirrored surfaces to enhance bathrooms, bedrooms, hallways, dining areas, and lobbies. Our exceptional selection of products assures your creative freedom. Furnish genuinely stunning interiors with our help.
Decorative Shower Doors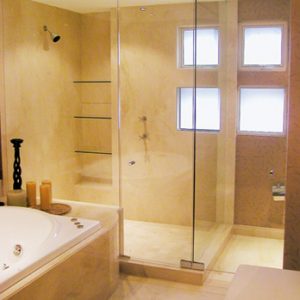 Have you searched for a great selection of lovely transparent or frosted shower doors or sliding tub enclosures? Rely on Glass Castle's exceptional inventory to choose the best products for your home or commercial site. We carry both frameless and semi-frameless selections in this category. Select from an array of textures and decorative safety glass designs. Customers discover both tub and shower enclosures at Glass Castle. We offer experienced installation services. Whether you seek a replacement product for an existing bathroom or you'd like to install completely new doors or tub enclosures, you'll discover we supply an excellent resource. Our firm works closely with local home builders to help customers obtain the best products available in this region.
Custom Window Glass Repair And Replacement Services
Real estate owners appreciate the availability of our expert custom window glass repair and replacement services in Hillsborough. When hail cracks or chips a lovely window pane or mars the appearance of sliding glass doors, contact us for fast, responsive service! Our technicians offer turnkey assistance. We'll customize our repairs to help you match the colors and styles of damaged window glass with precision. As a glass company, we possess the skills required to cut and shape replacement glass to meet a customer's specifications.
Lovely homes and commercial outlets in the Hillsborough Area sometimes sustain damage during harsh weather; trust Glass Castle with all your glass replacement needs. If significant damage has occurred to an existing window pane, ask us to perform a complete replacement. Our glaziers replace individual panes of glass. We also possess the necessary tools to install full windows or glass doors. Our skilled installation services help return properties to an attractive, comfortable condition quickly.
Visit us in person at either of our two retail locations: 843 Route 202 South in Neshanic Station and 1811 Princeton Avenue in Lawrenceville. We offer personalized assistance obtaining stylish custom glass table tops, mirrors, shower doors, and window glass repair and replacement services. Request fast assistance by calling 908-782-0812 or 609-530-1115.