Custom Glass Installations | Glass Repair | Shower Doors | Storefront Glass Upgrades
Glass is one of the genuine wonders of the modern world, offering protection from the elements while still allowing a view to everything around you. When professionally designed and installed, it enhances residential and commercial interiors as well, bringing an openness that can't be matched any other way. But whether you want to install glass doors on a shower or need to upgrade your storefront, whether you're considering other design features using glass or simply need repairs to broken or cracked glass, you want to work with experienced professionals. Glass Castle can help you with all your commercial and residential glass requirements.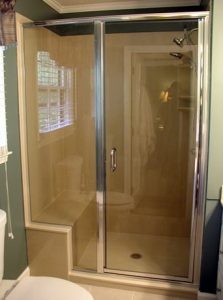 At Glass Castle, we have helped meet the needs of customers throughout Northern and Central New Jersey and Eastern Pennsylvania for over three decades, offering homeowners and business more than 75 years of collective experience in custom glass installation and repair. When we handle an installation or repair, our team members will treat your home as if it were our own—with the utmost care and respect.
Over the past 30 years, we have installed more than 75,000 glass shower doors, from framed and semi-frameless to fully frameless shower enclosures. We have the skills, experience and resources to repair or replace any type of glass and can help you design and implement custom glass solutions for other home and business needs, including glass furniture, glass tabletops and custom glass mirrors. We offer custom glass tinting services, as well as glass protection products and services.
To learn how we can help you with all your custom glass needs, send us an e-mail or call one of our stores, either in Neshanic Station (908-782-0812) or in Lawrenceville (609-530-1115).
Your Custom Glass Shower Door Experts in Newtown, Pennsylvania
At Glass Castle, we can help you with all your glass shower door needs, whether you want a custom design or prefer to use prefabricated glass shower doors. We will come to your location, so that we can carefully examine and measure your existing space. We will also review any construction plans, so that we can help you design glass shower doors that are both functional and attractive. We carry a huge inventory of 3/8" and ½" shower doors, with your choice of frameless, semi-frameless or framed sliding glass doors, so that we can get to work immediately, once you've finalized the design.
Contact Glass Castle online or call us at one of our stores to get a free estimate on the installation of a new shower door. We'll send one of our technicians to your home to carefully measure and assess your existing shower and surrounding space, as well as the existing décor, so that we can identify:
Where to best place your shower heads to minimize the risk of getting water on the floor or surrounding area
Where your load-bearing support is located, so that we know the best location and orientation of the glass shower door, how much weight the walls will support, and whether you need additional structural support
How the bathroom and shower area are ventilated, so that we can determine if you have sufficient airflow to minimize the risk of moisture and mildew, or need additional venting added
You won't need to know exactly what you want to do. At Glass Castle, we have in-house designers who can help you visualize and implement your dream.
Providing Custom Glass Installation and Design Services to Businesses in Newtown, PA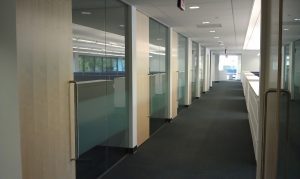 There are fewer more powerful ways to promote your business than with an attractive glass storefront. Don't worry, though, if you don't know exactly what you want it to look like. At Glass Castle, we have in-house designers who can show you virtually endless options for a glass storefront. We also have the trained and skilled technicians to ensure a professional installation of your vision. We use only the highest quality materials and are committed to working closely with you, so that your custom project is completed on time and within budget. We can install a new glass storefront in an existing commercial structure or work with general contractors to handle the glass storefront in new construction.
Come to Glass Castle for All Your Residential or Commercial Glass Needs
To learn more about the ways Glass Castle can help you with a residential or commercial glass project, visit one of our showrooms in Neshanic or Lawrenceville. The showrooms are open weekdays from 8 am until 5:30 pm and Saturdays from 8 am until 1 pm. We will give you a free consultation and a free estimate. We also offer a price match guarantee—we'll meet or beat all estimates from other glass installation, design and repair companies.
To learn more about the wide range of luxury and custom glass products we offer, from shower doors and mirrors to windows, storefronts and door glass, or to inquire about glass repair or replacement services, contact us by e-mail, visit one of our showrooms, or call us at 908-782-0812 in Neshanic Station or at 609-530-1115 in Lawrenceville.