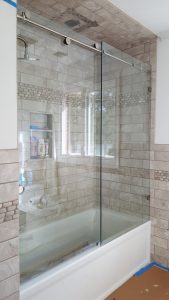 What's the first thing that comes to mind when you think about your existing shower enclosure? Musty smells? Water streaks or stains? Claustrophobia? That's not uncommon. For most of us, climbing into that old shower feels like crawling into a cave. But it doesn't have to be that way. With a custom glass shower enclosure, you'll open up the space—you'll think you've knocked out a wall and doubled the size of the bathroom. Better yet, glass is really easy to clean and maintain. Why not make the decision today—contact Glass Castle to start your bathroom makeover.
Maybe you have your own business, but your window on the world is dated. A custom glass storefront makes it easy to show off your products and services, inviting passersby to come in and learn more. Glass Castle can help with that, too!
At Glass Castle, we have served homeowners and businesses in Lambertville and the surrounding areas in Central and Northern New Jersey for more than 30 years, designing, building and installing an extensive range of custom glass products for homeowners and businesses. Since we opened our doors, we've installed more than 75,000 glass shower doors and enclosures for homeowners across New Jersey and Pennsylvania. Our designers thrive on creating unique glass projects, not only for shower doors, but for storefronts, furniture and other uses. We'll design and build a custom glass creation that allows you to make a personal statement, or help you visualized and implement a storefront that uniquely brands your business.
To learn more about all of our custom glass services, send us an e-mail or call us in Neshanic Station (908-782-0812) or in Lawrenceville (609-530-1115).
Unique Glass Concepts to Personalize Your Home
For an immediate and dramatic impact in a bathroom remodel, there's nothing like glass. You won't have to change the footprint of your bathroom, but you'll immediately have a sense of more space. Your glass shower enclosure won't involve the extensive maintenance that other types of shower doors typically require and keeping it clean is a breeze.
We understand that you may not have the time, energy or budget for a custom solution. That's why we offer a large inventory of prefabricated glass shower doors. You won't have any trouble finding one that fits with your personal tastes and existing décor.
If you're like most of our customers, though, you'll want to create something unique, something that makes a personal statement when guests come into your home. We can do that. When you hire us to develop and install a custom glass solution, we'll visit your home, so that we can learn your personal sense of style, see what your space looks like, and determine what you'll need to do to turn your vision into a reality.
We take a detail-oriented approach, carefully measuring your space. We'll locate your load-bearing walls, so that we can determine the best positioning and orientation for a custom glass shower door. We'll verify that:
You have the necessary structural support for your glass shower enclosure
Your space provides adequate ventilation and air flow, so that you minimize the likelihood of accumulations of moisture, mold or mildew. If necessary, we will make recommendations for modifications to avoid potential problems.
We will also determine where you should place your shower heads, so that you minimize the risk of water on the floor or in the surrounding areas.
At Glass Castle, We Are Glass Shower Door Installation Specialists
At Glass Castle, we have a large and well-trained staff of experienced custom glass technicians, prepared to address any potential concerns. In addition, we always carry a large inventory of 3/8" and 1/2" prefabricated glass shower doors, so that we can start and complete your project within days of obtaining design or project approval.
We offer a free quote on the cost of any type of custom glass project. To learn more, call us at one of our stores or contact Glass Castle online.
The Benefits of a Custom Glass Storefront for Your Lambertville, New Jersey Business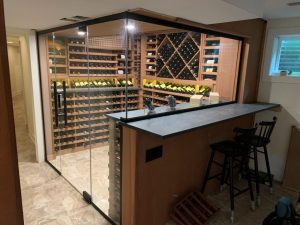 A custom glass storefront offers a number of advantages:
You will naturally the attention of passersby—Glass appeals to our natural curiosity, allowing us to see more of the world. When passersby see what's happening on the other side of the glass, it's an incentive to open the door and get a closer look.
Glass promotes creativity in your marketing and window displays—A glass storefront lets your display take on three dimensions, engaging potential customers at a higher level than a two-dimensional representation. Because of the ease of changing out displays, the view for passersby becomes dynamic. You can tailor your window display to coincide with seasonal offerings or highlight sales.
Studies show that glass storefronts promote energy efficiency, lowering the costs of heating and cooling your business
Market data also indicates that glass storefronts generally lead to a higher fair market value for your property than businesses with traditional storefronts
At Glass Castle, we offer the full range of custom-glass services both new and existing businesses. We will always use the highest-quality materials that allow us to stay within your budget.
Glass Castle—Meeting All Your Custom Glass Needs in Lambertville, New Jersey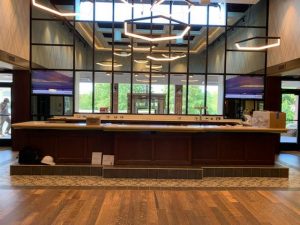 At Glass Castle, we provide all new customers with a free estimate. We also offer a price match guarantee—we'll meet or beat any quote you receive from another glass installation, design or repair company. We are available to meet with you weekdays from 8 am until 5:30 pm and Saturdays from 8 am until 1 pm.
To learn more about the wide range of luxury and custom glass products and services we offer, from shower doors and mirrors to windows, storefronts and door glass, or to ask any questions about glass repair or replacement services, contact us online, come to of our showrooms, or call us at 908-782-0812 in Neshanic Station or at 609-530-1115 in Lawrenceville.