Residents of Neshanic Station appreciate the convenience offered by Glass Castle. The beauty of custom glass products enhances many aspects of daily life in this pleasant New Jersey community! Contact us soon to obtain window glass, mirrors, or customized services for commercial or residential realty. From creating exquisite glass tabletops to repairing damaged window panes to installing customized transparent shower doors, our skilled technicians help customers obtain important products and services. Trust Glass Castle for all your glass, shower door, and mirror related needs in the Neshanic Station Area.
Beautiful Glass Tabletops
Glass Castle excels in the design and implementation of fashionable glass tabletops. This service helps preserve the beauty and utility of furniture. Our technicians exercise care during every phase of their work. Ask us to assist you in protecting wood surfaces by installing elegant glass tabletops over an existing table. Not a DIY project, the addition of a new surface helps showcase the beauty of wood while safeguarding furniture against smudges, scrapes, and accidental abrasions. Our glass tabletops suit dining room tables, desks, and conference tables.
Fine Window Glass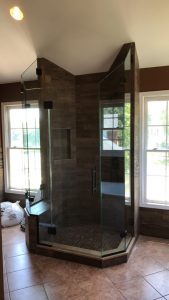 We also assist customers by installing window glass upon request in Neshanic Station. If limited damaged has occurred, installing a new single pane of glass usually proves far more cost-effective than replacing an entire window. We employ meticulous measurements to ensure our window glass repair efforts supply long lasting utility. Don't allow badly cracked or damaged window panes to detract from your view of this charming area. Instead, rely upon Glass Castle in Neshanic Station for all your window concerns. Our technicians visit your site to provide skilled repair services.
Custom Mirrors
Today, professional interior decorators frequently use mirrors to enhance interior spaces. We offer customized products. Our customers enjoy complete freedom in utilizing fashionable mirror and glass accents in residential and commercial interiors. To learn more about this exciting service, simply request our assistance. We'll help you create an impression of space and openness through the skillful use of reflected light.
Stylish Tub And Shower Doors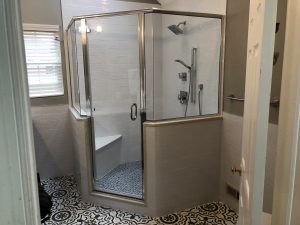 When households and businesses in Neshanic Station improve and upgrade bathrooms, they value the useful resources available through Glass Castle. We carry a wide array of popular sliding shower and tub doors. Our inventory includes both frameless and semi-frameless products. Request our assistance customizing transparent shower doors to fit your design parameters. Our expertise in this area allows us to supply valuable assistance when property owners in Neshanic Station undertake bathroom renovation projects.
As a local company, Glass Castle serves the entire Neshanic Station community. Contact us to obtain knowledgeable, attentive, competitively priced services. We offer a full spectrum of glass and mirror related goods and services to assist our customers.