Glass Solutions for Your Home or Business | Storefronts | Shower Doors | Glass Repair | Custom Glass Installations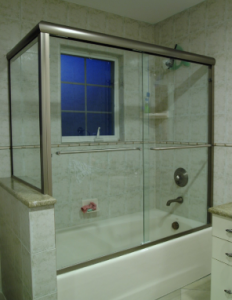 Whether you're looking to bring some light into your home or business, or make a shower or bathroom feel more open and spacious, there's nothing quite like glass. From frameless glass shower enclosures to custom glass storefronts, from the creative use of glass in windows or doors to glass tabletops and furniture, it's a look that's timeless and elegant. Glass Castle can help.
At Glass Castle, we offer comprehensive service and a wide array of glass products to homeowners and businesses across Eastern Pennsylvania and Northern and Central New Jersey, including customers in Washington Crossing, PA. The key to our long term success lies in our commitment to treat every home or business we service as if it were our own. Whether you hire us to install a new glass project or repair an existing one, we will give your home the utmost care and respect.
At Glass Castle, we bring more than 75 years of combined experience to businesses and homeowners in Washington Crossing and across Eastern Pennsylvania. Over the past three decades, we have installed more than 75,000 glass shower doors for homeowners in Pennsylvania and New Jersey, handling framed, semi-frameless and fully frameless shower enclosures. Our experienced glass technicians know how to repair or replace any type of glass. We can also assist you with the design of any glass project, including custom glass mirrors, tabletops and furniture, and offer a number of different options for protecting custom glass creations and also provide custom glass tinting.
To discuss your custom glass needs, to inquire about our glass repair services, or to get more information about custom residential and commercial glass installation, send us an e-mail or call us in Neshanic Station (908-782-0812) or in Lawrenceville (609-530-1115).
The Place for All Your Shower Glass Needs in Washington Crossing, PA
At Glass Castle, we're a one-stop shopping-center for all things related to glass shower doors and enclosures, whether you are interested in a pre-fab glass shower unit or something totally unique. We'll set up an initial meeting to get a basic understanding of what you hope to do. Then we'll pay you a visit, so that you can show us exactly where the shower will go and what you hope to accomplish. Because we stock a huge inventory of 3/8 and ½ inch shower doors, with a wide array of options, including fully framed, semi-frameless and fully frameless enclosures, we can usually start a project without delay. We will carefully measure everything, from the location of studs, beams and trusses to cabinets, doors and other fixtures, so that we get an accurate picture of the project.
Let Glass Castle Provide You with a Free Estimate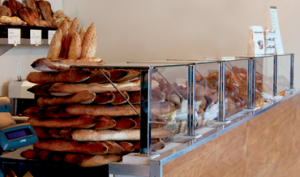 We know from experience that cost is a bottom line for many customers. We will put together a comprehensive estimate of the costs of your project, at no cost to you. To prepare your free estimate, we'll send a technician to your home, so that we can accurately determine
Where the load-bearing support is in the area of your project, so that we know how much weight the walls will support and whether we'll need to provide additional structural support to complete your project. The positioning of load-bearing walls also helps us identify the optimal location and orientation of the glass shower door.
The optimal placement of shower heads to minimize water on the floor or in the surrounding area
Whether you have adequate ventilation and airflow to prevent or minimize mold or mildew
At Glass Castle, we know that many homeowners have general ideas about what they want to do and see, but don't have a good handle on the details. That's our job. We have experienced designers who can work with you to make your concepts become a reality.
To schedule an appointment, call us at one of our stores or contact Glass Castle online.
Meeting the Glass Needs of Businesses in and around Washington Crossing
As a business owner, you want to put your best foot forward. In many instances, that's your storefront, the first thing prospective customers see. At Glass Castle, we can help you design and install a glass storefront that appeals to passersby and helps you effectively display your goods. Our designers know how to effectively maximize your use of space while showing off your wares. We know that costs are important to every business owner and will work closely with you to identify a budget and help you stay within it, all the while committed to using only the highest quality materials.
Glass Castle—the Residential and Commercial Glass Specialists in Washington Crossing, PA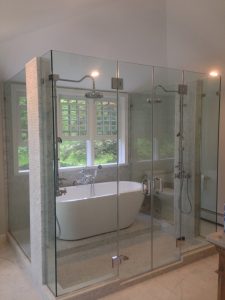 For more information about the broad range of services available at Glass Castle, stop by our Neshanic or Lawrenceville showrooms. We are open weekdays from 8 am until 5:30 pm and Saturdays from 8 am until 1 pm. Glass Castle provides a free consultation and comprehensive estimate to every customer. We'll also meet or beat any estimate you receive from any other glass installation, design and repair company.
For more details about the extensive selection of luxury and custom glass products available from Glass Castle, or to ask any questions about our glass repair or replacement services, send us an e-mail, call us at 908-782-0812 in Neshanic Station or at 609-530-1115 in Lawrenceville, or come in to one of our showrooms.