Custom Installations | Shower Doors | Glass Repair | Storefront Upgrades
Is it time to upgrade the storefront glass at your business? Looking to install custom glass shower doors in your home? Do you have a cracked or broken window or other glass fixtures that need repair or replacement? Let the professionals at Glass Castle of New Jersey handle all your residential and commercial glass needs.
At Glass Castle, we have the go-to place for businesses and homeowners throughout Northern and Central New Jersey for more than 30 years, offering our customers more than 75 years of combined experience in custom glass installation and repair. Over the past three decades, we've installed more than 75,000 glass shower doors for residential customers, including framed, semi-frameless and frameless enclosures. We can also provide custom solutions for other home and business glass needs, from glass furniture and tabletops to custom glass mirrors. Our highly skilled professionals will repair or replace any type of glass, and we do custom tinting. We also offer glass protection products and services. When we handle an installation or repair, our team members will treat your home as if it were our own—with the utmost care and respect.
To learn about the full range of products and services we provide, contact us by e-mail or call our stores in Neshanic Station (908-782-0812) or Lawrenceville (609-530-1115).
Custom Glass Shower Door Solutions for Homeowners in Raritan, New Jersey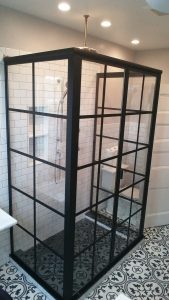 At Glass Castle, we handle both prefabricated and custom glass shower door design and installation. We'll look at your existing space or the plans for any new construction, so that we can design glass shower doors that are both functional and aesthetically pleasing. We have a large inventory of 3/8" and ½" shower doors (frameless, semi-frameless or framed sliding glass doors), making it easy for us to start and complete your project as soon as possible.
If you are considering installing a new glass shower door, contact us online or call us at 908-782-0812 in Neshanic Station or at 609-530-1115 in Lawrenceville. We'll send one of our glass specialists to your home to measure your existing space, as well as the existing or anticipated décor, so that we can determine:
The best placement of shower heads to avoid getting water on the floor or surrounding area when opening shower doors
The location of load-bearing support, so that we know where to put the glass shower, how heavy the glass can be, and if you need to provide additional structural support
The existing ventilation in the bathroom and shower area, so that effectively manage moisture levels and avoid mold and mildew
Don't worry if you're not certain exactly what you want or what you can do. We have designers in-house who can help you create the glass shower of your dreams.
Luxury Glass Products and Installation for Businesses in Raritan, New Jersey
At Glass Castle, we offer comprehensive design and installation services to businesses seeking a glass storefront that maximizes visibility and attracts customers. Our highly skilled and trained glass craftsmen use only the highest quality materials and will work closely with you to ensure that your custom project is completed on time and within your budget. We can install a new glass storefront in an existing commercial structure or work with general contractors to handle the glass storefront in new construction.
Let Glass Castle Take Care of All Your Residential or Commercial Glass Needs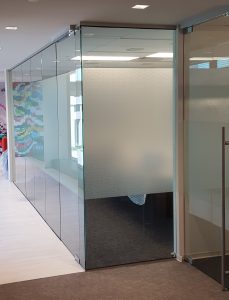 At Glass Castle of New Jersey, we have showrooms in Neshanic or Lawrenceville where you can see the wide range of quality glass products we offer for homes and business. The showrooms are open weekdays from 8 am until 5:30 pm and Saturdays from 8 am until 1 pm. Every visitor to our showrooms is entitled to a free consultation, as well as a free estimate. We also offer a price match guarantee—we'll meet or beat all estimates from our competitors.
To learn more about the wide range of luxury and custom glass products we offer, from shower doors and mirrors to windows, storefronts and door glass, or to inquire about glass repair or replacement services, contact us online, visit one of our showrooms, or call us at 908-782-0812 in Neshanic Station or at 609-530-1115 in Lawrenceville.